Separators for the food and beverage industry
Areas of application of the KMA separators:
dairies * breweries * beverage industry * industry * others on request * plant planning and development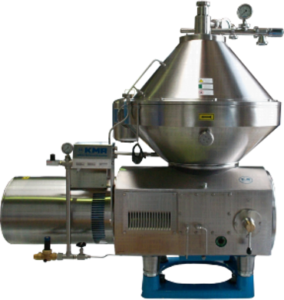 Drive:
According to feed capacity we differentiate separators with different drive types:
Direct drive
Helical gear drive
Belt drive
The separators are driven by a three-phase motor using a frequency converter.
Inlet and Outlet:
A sealed product inlet reduces the air contact of the product. The clarified liquid is discharge by paring discs under pressure (max. discharge pressure 5 bar). To avoid oxygen intake by the product, the separators are manufactured in semi-hermetic or hydro hermetic design.
Separator bowl:
The separators are mounted with a self-cleaning disc bowl, which guarantees a high separation performance and flow optimization in the inlet area. The construction of the separators makes possible a continuous operation i.e., uninterrupted processing of the product to be separated. The separated solids are periodically discharged automatically as required. The regular pre-planned cleaning of the separators in a chemical circulation cleaning (CIP cleaning) ensures the cleanliness of all parts in contact with the product. Thus, without time-consuming totally removed the need of manual cleaning.
Direct drive
800 l/h – 7.500 l/h Installed
power rating: 4,5 – 11 kW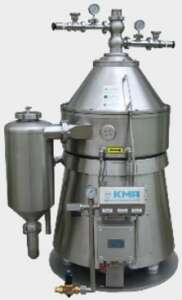 Helical gear drive
8.000 l/h – 30.000 l/h Installed
power rating: 18,5 – 37 kW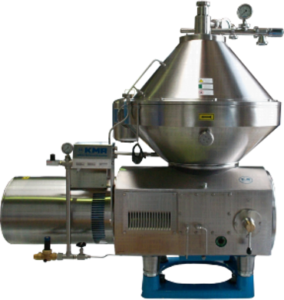 Belt drive
18.000 l/h – 60.000 l/h Installed
power rating: 37 – 55 kW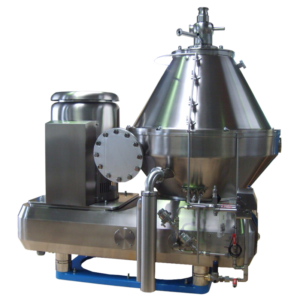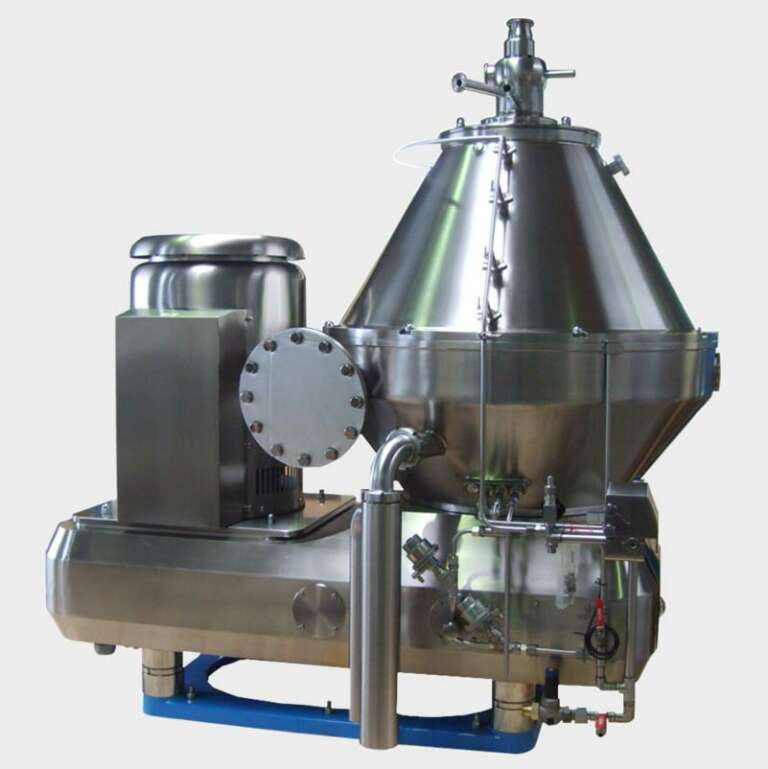 Design KMA-Separators
Bowl:
Self-cleaning disc-type bowl with high separation capacity for full and partial discharge
Inlet and discharge:
Sealed inlet, discharge of the clarified liquid foam-free under pressure in semi-hermetic or hydro hermetic design
Housing parts:
Bowl cover and gear upper part are made of stainless steel, polished or shot blasted
Gear housing made of cast iron with stainless steel plate cladding or painted
Material:
All parts in contact with the product are made of high-grade stainless steels
Separator control for KMA-Separators
The operation / function of the separators are automated by a PLC control. For example, SIEMENS AG PLC and frequency converters from Danfoss are used for automation of all controllable devices. The complete separator control process can be visualized via the touch screen display and is fully customisable to suit every customer. Communication protocol between master control or any other control is possible and fully programmable.